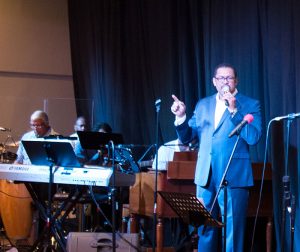 pastorron@thecovenantlasvegas.com
Pastor Ron was born to Dr. Frederick Stanfield and Rose Stanfield, along with four sisters. Being a son of a Pastor along with host of Uncles and other relatives in the Ministry, Pastor Ron is no stranger to doing the work of the lord. Having been mentored from birth, Pastor Ron has been used greatly in different areas in the Lord's Kingdom building from the Music Ministry, Trustee and financial offices, as well as Associate Pastor Assignments.
Pastor Ron received his undergraduate degree from the California State University at Long Beach, with a discipline in Quantitative Systems. Post College, Pastor Ron worked in both the corporate and private sector. TRW Space and Defense, Campbell Soup Corporation, and Dun and Bradstreet Corporation to name a few companies in Pastor Ron's journey, helped to enhance his knowledge of diverse industries.
Century 21, Re/Max Realty, and his on private Real Estate Firm, served as a catalyst in Pastor Ron's entrepreneurial development and awareness of business structure.
Pastor Ron's love of music began at an early age when his father, Dr. Frederick Stanfield noticed his fascination of music and bought him his first drum kit. His father then bought him a Trumpet which became Pastor Ron's primary instrument through college. Later taking on Piano and various other instruments, Pastor Ron's love for electronics soon guided him to recording engineering.
Serving in various Churches within the music ministry, Pastor Ron's last assignment before submitting to God's call to organize the Covenant Christian Fellowship was both as the Worship and associate Pastor, which he served faithfully for seven years. God has richly blessed Pastor Ron to enjoy success in ministry where ever the opportunity was provided.
The Covenant Christian Fellowship Church is no exception and has rapidly grown from a new plant only five years ago, to the diverse house of worship it has become today. Pastor Ron understands that the responsibility of helping people to secure a relationship with God is a serious calling. It is very apparent that today's world is growing more distant from God, and confused by the minute.
Pastor Ron is currently working on his Masters in Biblical studies at Moody Theological Seminary. Pastor Ron is married to his one and only wife, Karen of 26 years and they have three children; Ron II, Kindra, and Grant. Life is so busy, the calling is not always easy, but God is so good.